Training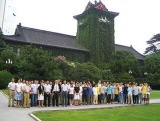 Together with students at Nanjing Summer School
In our Business Segment TRAINING you can benefit from our years of experience in the training of individuals, teams and organisations. Especially the expierience as trainer at the Siemens Management Institute in China as well as the long years experience as university teacher at the university of Klagenfurt and guest teacher at other universities (Nanjing University, South East University, Fudan Univerity Shanghai) you can utilize.

All trainings amd seminars we offer, we can do in German or English.
| | |
| --- | --- |
| Effektives Management and Team Leadership | Training designed for team members of projects, project managers and line managers. Especially for projects which are done in an intercultural environment. (Based on the University Lesson "Effective Management and Team Leading") |
| Training in Human communication and managing conflicts | Training in Human communication and managing of conflicts based on communication problems. Based on the communication theory of Paul Watzlawick and Friedrich Schulz von Thun. |
| MindMap Training | Introduction to use of the Mind-Map technology of Tony Buzon. In this training we also will introduce new technologies of computer based mind mapping and integration of mind mapping in MS Sharepoint environment. |
| Basics of SYSTEMIC thinking in Management | Introduction and application training of the systemic management models following Prof. Frederic Vester and usage of the GAMMA method from Prof. Hub. |
| Extended Project Management Training | In this training, following our SYSTEMIC approach, we show how to optimize company internal interfaces for getting better customer satisfaction. |
Details about our offerings for training you can also download in our Download area as pdf.

Our experience in training / coaching meanwhile exeeds 3000 participant days - at universities, conferences, seminars and trainings for companies worldwide - utilize it.
Last Update / Change 07.08.2011.